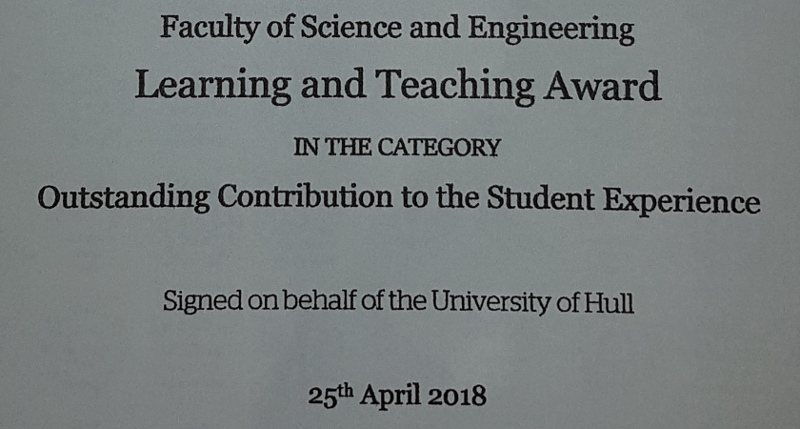 Yesterday, it was nice for the Three Thing Game and the Bored? Games! events to get some official recognition for the benefits that they provide to the student experience.
The award in question was presented at the debut Faculty of Science and Engineering - Learning and Teaching Award, in the category of Outstanding Contribution to the Student Experience.
Three Thing Game (http://threethinggame.com) is the game jam event that we have been running here in Hull since 2011 when it was launched by the esteemed Rob Miles (http://robmiles.com). In fact the Bored? Games! events also evolved from Rob's bashes in Computer Science.
Both events are fun, informal, opportunities for the students to mingle with each other and the staff who also take part. The game jam also is great for boosting student portfolios for job hunting and is a highly recommended extracurricular activity.
The next Three Thing Game is just over a week away and I am really excited that we have a bumper crop of Digital Media and Music students joining us. Their talents, combined with the programming prowess of our Computer Science students, promises some truly wonderful creations that I can't wait to see.
Another exciting thing for the upcoming event is that some of our alumni are heeding our call to arms and are coming to play with us.
The more the merrier though, so if you are still on the fence, jump down in to the warm inviting embrace of (the now award-winning) Three Thing Game.